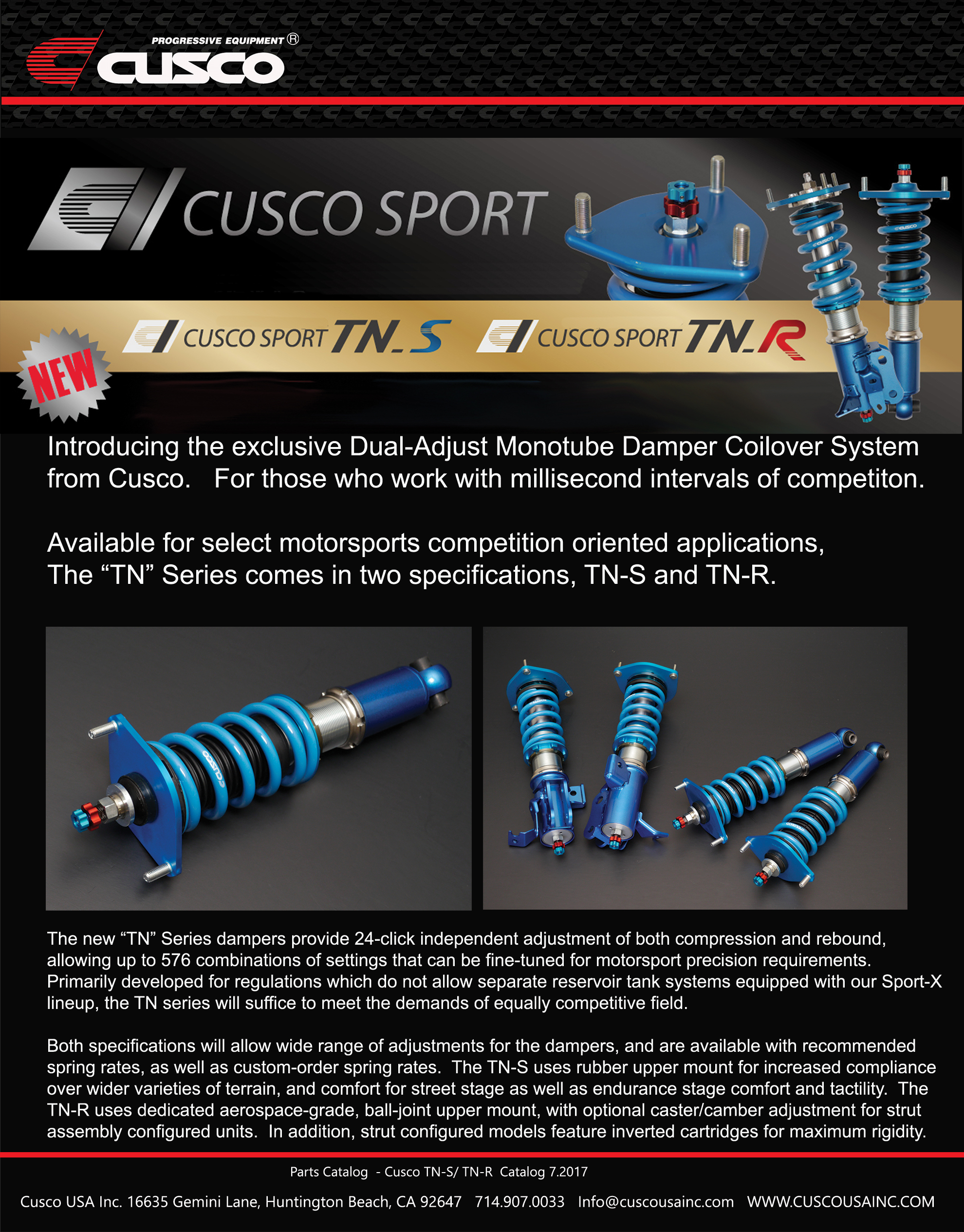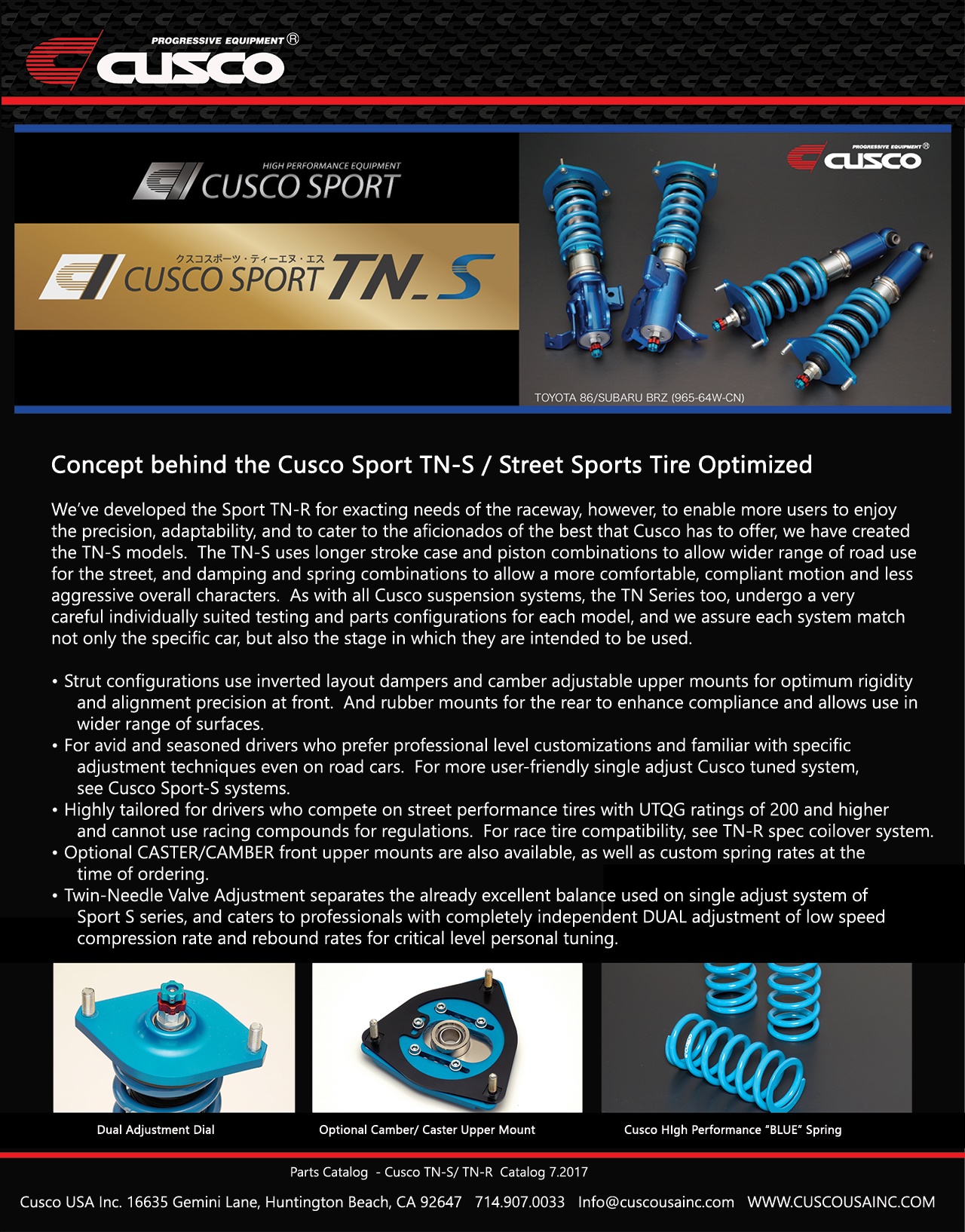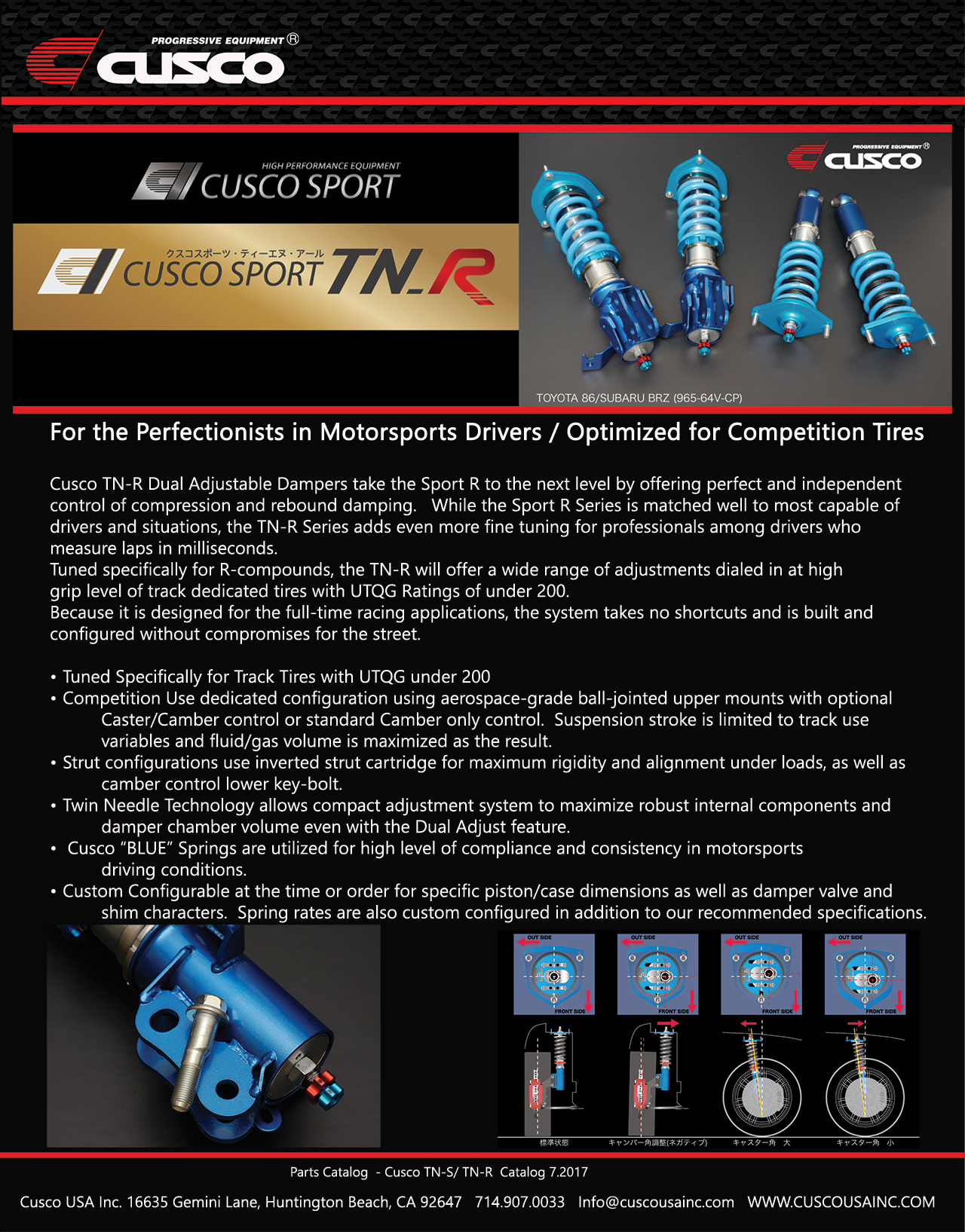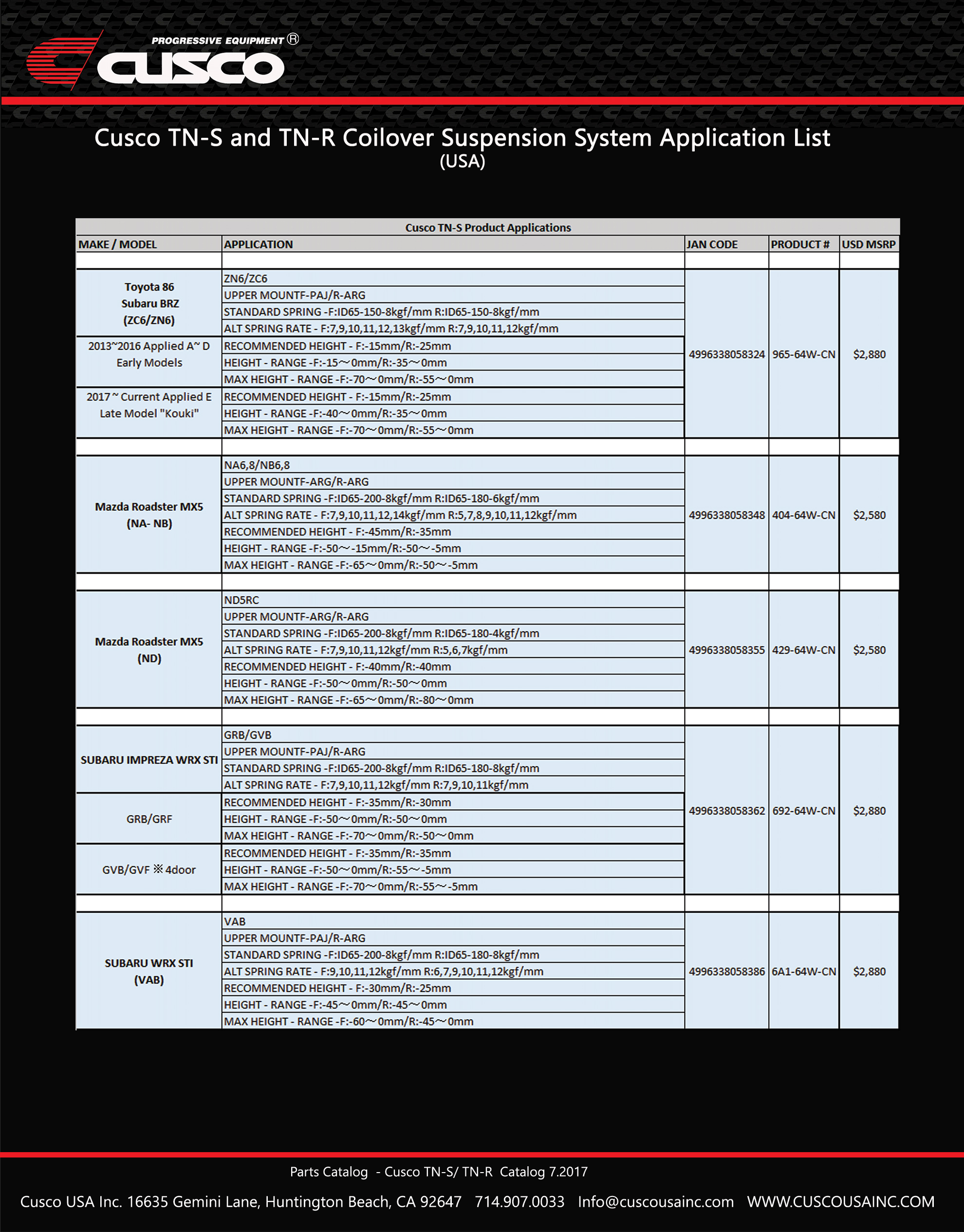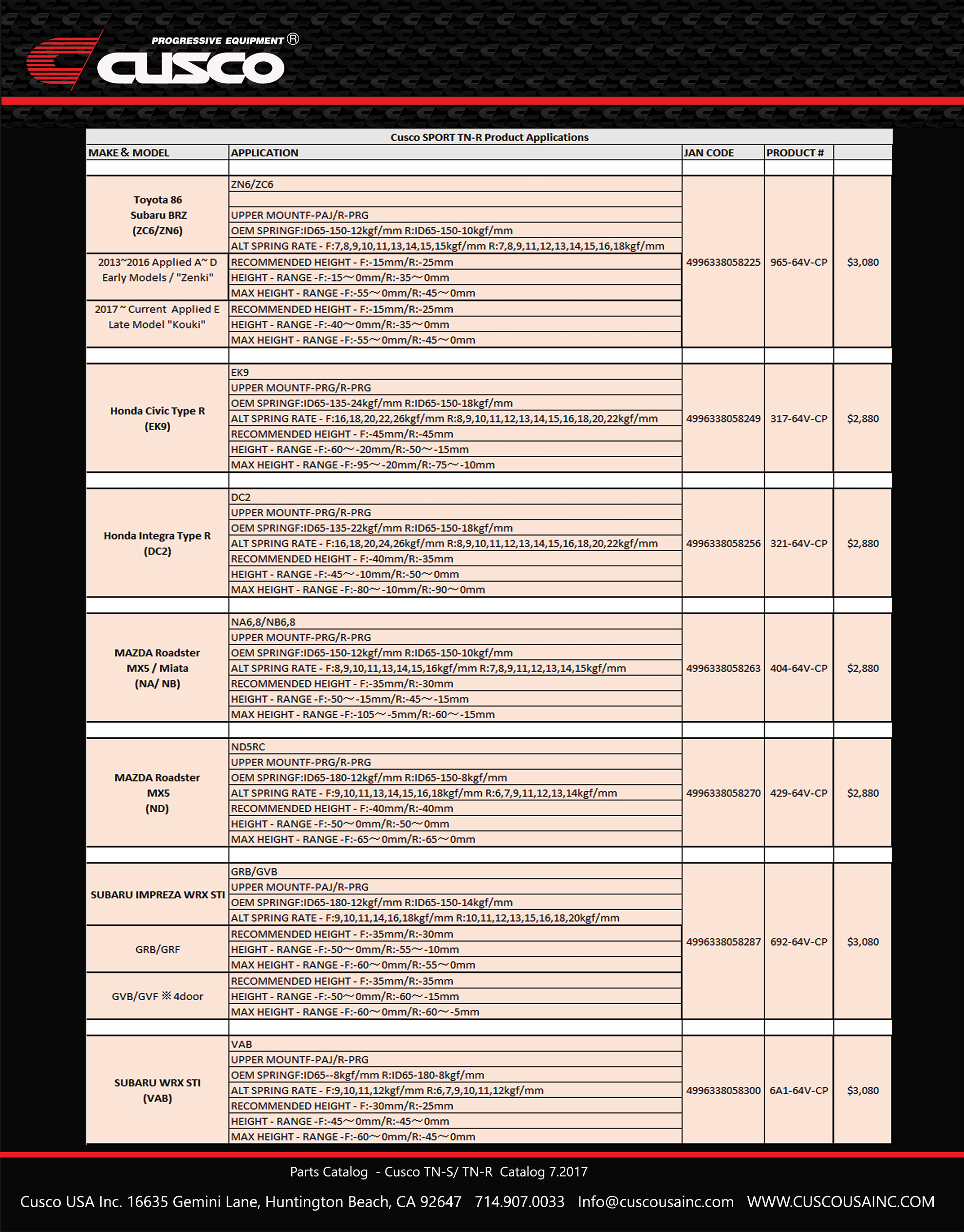 The Cusco SPORT TN_S and SPORT TN_R 
Introducing the new generation of Cusco Sport Series Monotube Coilover System.
For the Perfectionists in Motorsports Drivers / Optimized for Competition Tires
Cusco TN-R Dual Adjustable Dampers take the Sport R to the next level by offering perfect and independent control of compression and rebound damping.   While the Sport R Series is matched well to most capable of drivers and situations, the TN-R Series adds even more fine tuning for professionals among drivers who measure laps in milliseconds.  Tuned specifically for R-compounds, the TN-R will offer a wide range of adjustments dialed in at high grip level of track dedicated tires with UTQG Ratings of under 200.  Because it is designed for the full-time racing applications, the system takes no shortcuts and is built and configured without compromises for the street.
Tuned Specifically for Track Tires with UTQG under 200
Competition Use dedicated configuration using aerospace-grade ball-jointed upper mounts with optional Caster/Camber control or standard Camber only control.  Suspension stroke is limited to track use variables and fluid/gas volume is maximized as the result.
Strut configurations use inverted strut cartridge for maximum rigidity and alignment under loads, as well as camber control lower key-bolt.
Twin Needle Technology allows compact adjustment system to maximize robust internal components and damper chamber volume even with the Dual Adjust feature.
 Cusco "BLUE" Springs are utilized for high level of compliance and consistency in motorsports driving conditions.
Custom Configurable at the time or order for specific piston/case dimensions as well as damper valve and shim characters.  Spring rates are also custom configured in addition to our recommended specifications.
Concept behind the Cusco Sport TN-S / Optimized for Street Performance Tires
We've developed the Sport TN-R for exacting needs of the raceway, however, to enable more users to enjoy the precision, adaptability, and to cater to the aficionados of the best that Cusco has to offer, we have created the TN-S models.  The TN-S uses longer stroke case and piston combinations to allow wider range of road use for the street, and damping and spring combinations to allow a more comfortable, compliant motion and less aggressive overall characters.  As with all Cusco suspension systems, the TN Series too, undergo a very careful individually suited testing and parts configurations for each model, and we assure each system match not only the specific car, but also the stage in which they are intended to be used.
Strut configurations use inverted layout dampers and camber adjustable upper mounts for optimum rigidity and alignment precision at front.  And rubber mounts for the rear to enhance compliance and allows use in wider range of surfaces.
For avid and seasoned drivers who prefer professional level customization and familiar with specific adjustment techniques even on road cars.  For more user-friendly single adjust Cusco tuned system, see Cusco Sport-S systems.
Highly tailored for drivers who compete on street performance tires with UTQG ratings of 200 and higher and cannot use racing compounds for regulations.  For race tire compatibility, see TN-R spec coilover system.
Optional CASTER/CAMBER front upper mounts are also available, as well as custom spring rates at the time of ordering.
Twin-Needle Valve Adjustment separates the already excellent balance used on single adjust system of Sport S series, and caters to professionals with completely independent DUAL adjustment of low speed compression rate and rebound rates for critical level personal tuning.
Mono-Tube Construction
Double Tapped Full Height Adjustment
Inverted for Front MacPherson Strut
24-way Adjustment Damper
Triple Adjust /Separate Tank
Competition Grade Bracket
Custom Built to Order
Starting MSRP
Double Tapped Full Height Adjustment
Inverted for Front MacPherson Strut
Street
Autocross
HSPD/ Open Track
Double Tapped Full Height Adjustment
Inverted for Front MacPherson Strut
Autocross
HSPD/ Open Track
Competition
Dual Adjustable Mono-Tube
Double Tapped Full Height Adjustment
Inverted for Front MacPherson Strut
24-way Adjustment Damper
:
24 Step 2 Way for Compression /Rebound
Street
Autocross
HSPD/ Open Track
Competition
Double Tapped Full Height Adjustment
Inverted for Front MacPherson Strut
24-way Adjustment Damper
:
24 Step Rebound
Triple Adjust /Separate Tank
:
3 way High/Low Compression Adj. on Reservoir Tank
Street
Autocross
HSPD/ Open Track
Competition
Double Tapped Full Height Adjustment
Inverted for Front MacPherson Strut
Competition Grade Bracket
Autocross
HSPD/ Open Track
Professional Road Comp
Rally Stages